ThermiSmooth
August 4th, 2016 by Diane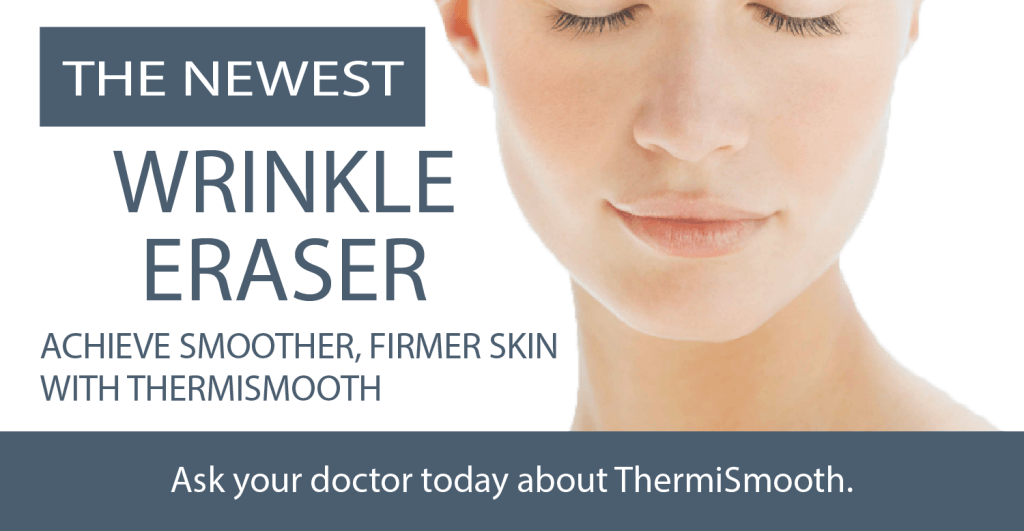 Achieve Smoother, Firmer Skin with ThermiSmooth
ThermiSmooth is a simple office procedure for smoothing fine lines, wrinkles and sagging skin in all areas of the face:
Forehead
Eyes
Cheeks
Mouth
Neck
Patients have remarked this 30-minute procedure feels like a "warm massage" while a hand-held device delivers radiofrequency energy to the surface of the skin, heating the cells and stimulating the body's own collagen production.
ThermiSmooth requires no anesthesia, takes little time and works beautifully. A series of 3-6 treatments is recommended for optimum results.
Gentle therapy
Non-invasive procedure
No downtime
Series of 3-6 treatments
One patient, who just started her series of ThermiSmooth treatments, says, "I'm turning 50 this year and was on the verge of scheduling a consultation with a plastic surgeon to address my wrinkles and sagging skin, but I was hesitant to go under the knife. That's when I heard of ThermiSmooth. I did some research on RealSelf.com and was blown away by the before and after photos so I immediately scheduled an appointment. I'm so glad I did. I've received two treatments so far and already my skin feels better, looks younger and my makeup goes on smoother. And it really does feel like a warm massage! I can't wait to see the results after my final treatment."
To schedule your ThermiSmooth appointment, call 770.720.7733 or contact us here.
Request a Consultation
Recent Posts
Categories
Testimonials
"Dr. Litrel was a fantastic doctor. I had my first exam with him, although at first I was skeptical about a male doctor for my GYN. But after I met him I'm glad I kept an open mind, and I couldn't have dreamed up a better doctor. He cares about you as a person and not just a patient. The front desk ladies and nurses were very friendly and it's a great office, very clean and not intimidating. I highly recommend Cherokee Women's Health."
– Vicki